DISCOVER YOUR POTENTIAL WITH STRENGTH TRAINING
Mobile Personal Trainers - Liberty Village to Leslieville in Downtown Toronto
Are you seeking the ultimate personal trainer experience? Look no further! Our top-notch coaches offer programs tailored to suit every fitness level. Elevate your workout routine, achieve your goals, and experience a profound transformation like never before.
Our certified personal trainers are passionate about helping you succeed. They'll guide you through personalized strength training routines to maximize your progress and minimize the risk of injury. Train with the latest equipment and enjoy modern amenities, creating an optimal environment for your fitness journey. Our preferred personal training studios are located near Liberty Village and Leslieville. 
Whether you're a beginner or a seasoned athlete, our diverse range of strength training programs cater to all, ensuring you find the perfect fit for your needs. We are committed to helping you achieve your fitness objectives. Our proven methods guarantee noticeable results in strength, endurance, and overall performance.
The gym is a microcosm of life.
The lessons learned along your personal training journey can be easily applied to almost any objective, whether it be personal initiatives, or career. It starts with setting long term goals, breaking them down into short term goals and then reverse engineering a plan that puts you on the right path.
Life is busy. We don't need to be wasting our efforts, or worse, getting hurt at the gym, pushing us farther from our goals. Planning ahead ensures we hit our targets, and stay motivated with incremental progress. Once you have a plan in order, growth starts with calculated development, ensuring we don't remain stagnant.
Unfortunately, results don't happen overnight, especially with personal training. When motivation wanes, cultivating the discipline to remain consistent while adopting a long view approach will make all the difference in achieving your goals.
When you develop the skills to achieve your fitness goals, you develop life-long skills that will truly help you discover your potential.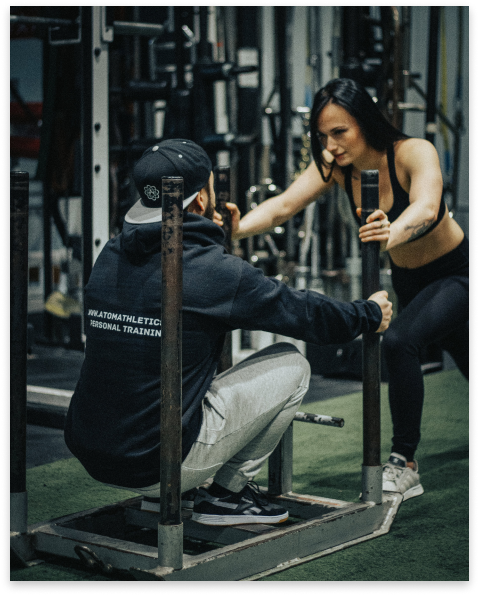 OUR PERSONAL TRAINING STYLE
When working with our personal trainers you can expect a healthy dose of strength training as well as other foundational pillars of functional fitness. They are balance, power, mobility and endurance. This style has helped us build well-rounded and robust individuals, who learn to thrive. 
Whether you are a teenage athlete or retiree, the benefits of strength training are limitless. 
Strength training truly is the elixir of life.
We pair strength training with simple approaches to your nutrition, lifestyle habits and daily activity in order to support a healthier and happier you.
You will become stronger
You will move more freely
You will feel and look better
Your energy levels will soar
You WILL discover your potential